ASSET DATA WAREHOUSE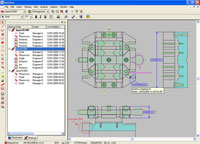 SABIC Europe considered management of asset information according to best practices a prerequisite to keep their license to operate and achieve manufacturing excellence. Their vision was that all SABIC personnel and authorized third parties involved in manufacturing should have easy access to correct and up-to- date plant asset information, and able to process that information through a simple desktop interface. That vision was pursued in the Asset Data Warehouse project.
The project's goal was to design and implement a common asset data warehouse for all plants of the Geleen site. Asset data including drawings, instructions, equipment classification data, process conditions etc. We achieved this with SAP's Document Management System integrated with the Plant Maintenance module. Asset documentation was linked directly to the asset hierarchy in Plant Maintenance. The solution supported the whole document life cycle including version control and the SAP standard was enhanced for document number reservation for engineering projects, check-in/check-out functionality for controlled external editing of files and metadata, Google style document search & retrieval and central file storage in Opentext's Livelink Archive Server. Livelink was the company's office document management system.
Now with Asset Data Warehouse employees and contractors working for Manufacturing, Maintenance and Turnarounds departments have access to more than 350.000 engineering (CAD) and other critical plant documentation.