MAINTENANCE PLANNING & SCHEDULING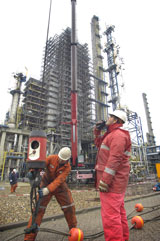 SABIC Europe has implemented SAP Plant Maintenance to manage their day-to-day maintenance work. After five years running the system they performed an audit on the Geleen site to evaluate their maintenance work processes and usage of SAP. One of the conclusions was that the maintenance organization was reactive with poorly performing planning and scheduling functions. Furthermore, the maintenance organization was centralized requiring further standardization of processes and tools.
The goal of this project was a site wide implementation of a standard maintenance planning and scheduling process with a professional scheduling tool. We achieved this by simplifying the planning process and making work preparation a separate and distinct function within the organization. Planning and scheduling were also separated and recognized as key roles to make the transition to a proactive maintenance organization. We tightly aligned SAP to this new organization and redesigned practices making the work flow efficiently and improving reporting capabilities. MS Project was connected to SAP via the Impress interface as a first step towards professionalizing the scheduling function. Using MS Project's web tool everybody in the organization had access to up-to-date maintenance schedule information.
The project took nine months to complete taking into consideration a three-month delay to downgrade MS Project from 2007 to 2003 due to a failed stress test performed in the Realization phase of the project. After 18 months MS Project was upgraded to Primavera pursuing the vision of an enterprise scheduling system.