TURNAROUND CONTROL SYSTEM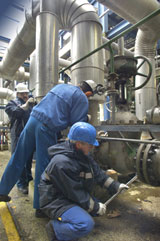 SABIC Europe was running a 14 year old custom built standalone Turnaround Control System which was at the end of its life cycle. Although the system fulfilled the end-user's requirements, obsolete software technology with increasing hardware compatibility issues and limited support for maintaining and developing the system was becoming a threat to the continuity and further improvement capabilities of their Turnaround processes. At the same time SAP Plant Maintenance was in place for routine maintenance and supporting processes like procurement, stores and finance. The Turnaround and IT organizations saw an opportunity to kill two birds with one stone. First, assure continuity of IT support for the Turnaround processes. Second, optimize existing business processes and rationalize several disconnected tools in use.
The goal of this project was to deliver a system that integrates Turnarounds with all supporting business processes and key suppliers. We achieved this by connecting SAP to Primavera and thereby enabling the business with the best of both worlds. SAP Plant Maintenance for scope management and planning, SAP project system for cost control and extending their existing SAP procurement, document management and inventory management solutions to support Turnarounds. Primavera was implemented as an enterprise scheduling system using the Impress interfacing technology to automatically synchronize projects in the range of 5.000 to 60.000 activities with SAP. Through SAP's Enterprise portal we enabled contractors to enter their calculations and bids for job packages directly in the system and providing them real-time access to information of their assigned work. Turnaround management reports to control scope, planning and costs progress were developed in SAP Business Intelligence.
The project took 18 months from envisioning to go-live and the solution has been in use since 2009 in several Turnaround projects with success.